Besides avidly checking out our Puma Canada coupons page, another page you should check is the sale section for that very same brand. I was on the hunt for some new running shoes and I discovered that there was a sale to save up to 50% off select items.
Also as a bonus, all orders that have a pair of footwear in them qualify for free shipping. Score! You heard it here first.
Visit Puma and find out more
Expires: 14th September, 2012 for the free shipping offer. Not provided for the sale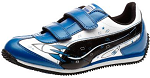 I rarely peek into the kids section when looking at items–since I have none myself–but I fell hard for these Kids light up shoes. They were originally $75 but have dropped down to $45 and, even though I am a grown adult, I would wear these again in a heartbeat after a couple of drinks.
Check out the clothes and accessories they have too; if you're planning on a new workout routine, pick up something that will make you feel good about getting all sweaty. If my jogs are anything to go by I see people really go for the neon colours this Fall.