As the ultimate one-stop source for all home improvement projects, Home Depot has the some of the best selection of materials, items, and even appliances.

One can never be too organized and this Husky Black Cabinet has enough storage space to fit all of your tools. If for any reason, you need to lock up your tools, you can do so with the locking system in place (say if you have kids for instance). No worries about it toppling over either as its steel construction can handle heavy equipment.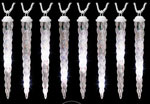 Decorating for Christmas can be done as early as one desires: I've seen some of the most elaborate home decorations — complete with inflatable Santas and lights that are sure to cost a fortune in electricity bills — as early as the day following Halloween.
Whether you prefer going all out on decorations or keep it low-key, these awesome-looking Shooting Star decorations are perfect for greeting your friends and family over the holidays.
Looking for more Black Friday deals? We have you covered.
Have you started decorating for Christmas yet?