Deals to save on kids clothes are nice, but Anne has recently updated our The Children's place page with a deal where everyone can save! Right now, you can shop all the specials they have going on and save up to 30% off with the code below.
The same code breaks down into three different parts, which I'll explain below.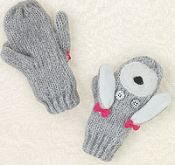 I don't know about you guys, but I would still wear these Poodle Gloves at $6.96!
Here's how the breakdown for the code works:
20% off everything when you spend under $50
25% off when you spend $50 or more
30% off when you spend $60 or more
There's also a printable coupon you can use in-store that you can get here if you prefer to take your tykes with you. With 30% off outerwear and cold-weather accessories going on right now, as well as their clearance section that's always filled, you're bound to find something you'll like!