The holiday season doesn't just mean quality time with loved ones and the possibility of multiple gifts; it also means it's the time for yummy baking and even tastier cooking. I don't mean cooking up deals on our Wayfair page–granted they are delectable in their own right–but for more seasonal goods like Oreo Cookie Balls and a scrumptious Double chocolate treasure cake.
For a limited time, you can create such masterpieces of your own thanks to the sale at Wayfair; save up to 25% off bake ware and cookware to fulfill your culinary needs.
Shop the collection at Wayfair
Expires: 31st October, 2012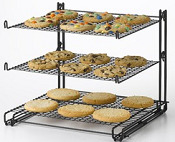 Trust me from personal experience on this one; you never know when you'll use a cooling rack until you need one. This was a conundrum we had in our household so we promptly bought a 3-tiered cooling rack on sale for 18.99.
One of the best inventions ever–in my opinion–is the slow cooker/crock pock. Pop in your food, set the timer, let it cook and you'll have an instead meal in hours. It's ideal for those who work all day and want a meal ready when they get home, whether it be a dessert or dinner. Check out this 4 quart Hamilton cooker at $26.62 and then take a jaunt to your favorite recipe site to see what you can make with this baby.
Shipping varies per order and on what you're purchasing, so double-check it before placing one.