Famous for its "Days" events that discount a variety of in-theme items, Sears Canada has released yet another sale! Save up to 20% on anything baby-related from toys, furniture and humidifiers during the Sears Baby Days.
Although most items are on sale until March 14th, be sure to check because some deals expire on March 7th, 2013 and most importantly, don't forget to regularly check our Sears page of promotions.
Shop at Sears Canada
Expires: 14th March, 2013
Although Elmo first made his appearance on the popular kids show Sesame Street in 1972 as Baby Monster, this Muppet character's popularity has not waned one single bit. In fact, since he continues to be a favorite toy among children of all ages, the Elmo 'Baby Sniffles' Figure is sure to become any child's favorite within seconds. The reason he's called "Sniffles" is because he needs a lot of hugs and kisses to make him better (his nose can be squeezed for a variety of sneezing sounds). Though he's not available in Quebec unfortunately, "Baby Sniffles" is sure to please with his adorableness for only $15.99, down from $19.99 in other provinces.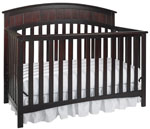 Hailed as one of the safest baby cribs of 2013, the Graco 'Charleston' Convertible Crib, reduced to $254.99, is a great starter bed for any toddler. Available in white or cherry colors, the best part about this crib is that it can convert from a crib to a double bed with an attachable headboard as your child grows. Though the mattress isn't included, the Charleston crib is definitely a solid choice, especially since it cannot be dropped down (for safety reasons!) and is made entirely of wood.
For all those first-time parents, be sure to read through Sears' Baby Crib Buying Guide for tips on mattress height, safety, versatility and more.