Future Shop doesn't release coupon codes frequently so it's almost a feast when they release one. The below code will allow Canadians to save on cameras, camcorders and photo accessories. You can get $10 off purchases of $100+, $30 off purchases of $300+, $50 off purchases of $700+ or $100 off purchases of $1000 or more.
No matter if you're an online shopping addict or a fan of the shopping experience in one of Future Shop's many Canadian stores, you will be able to enjoy this deal because we have an in-store and online version of the coupon. The offer expires on the 30th of August.
Photography is one of my hobbies and I'm always looking to buy new accessories. I really like the fact that photography is now a lot more accessible than it used to be and it doesn't take much material to make beautiful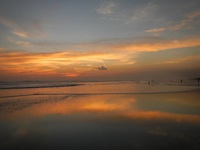 pictures. There are now excellent digital cameras available for less than $300 and they have the capacity to take some awe-inspiring pictures. I took this sunset picture in Kuta-Bali with a digital Nikon one.
But I personally think that a DSLR can make a really big difference in your picture's quality–if you know how to use it of course. If you want to find out more about how to choose your first DSLR, you can have a look at the article that Ocean, one of Vouchercodes friend's, has written for us.