Slip into some sweats, grab your favorite tea, and take a few minutes to yourself. While you relax, why not order some more of that deliciously good brew from Teavana? With a wide selection of tea flavors of all kinds, as well as enough accessories for all of your tea-brewing needs, Teavana is a haven for tea-lovers. On top of it all, we're here to help you save up to $10 with a fantastic coupon.
If you're looking for other savings to put into your infuser, stop at our Teavana coupon page for more.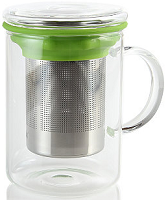 As a bonus, a free tea sample is even included with your order! This month's freebie is the rambunctious Maharaka Chai/Samurai Chai Tea blend. If that doesn't make you want to bust our your ninja skills, then I don't know what will!
My awesome co-workers actually gave me a tea infuser for the holidays just like the one on the right. Perfect for a cup of tea, this Remi glass tea mug also comes with a stainless steel infuser that is super easy to clean. Watching the tea infuse into your glass is rather neat and I found myself trying different teas just to see the effects for myself. It's dishwasher safe, which is also a huge advantage. This infuser can be yours for $19.95 and is well worth the price.
Shipping is free with on orders over $50. Might as well go that extra mile and pick up $60 worth of merchandise and use the code above to save $10! It's like you're getting $10 worth of free stuff.
What will you be getting at Teavana?