Have you been avidly checking our daily updated Sears Canada coupon page in preparation for your holiday shopping? Christmas is still two months away, but there's no reason you can't start saving now. Treat the babies in your life with something new and/or fancy at Sears and save up to 40% on everything for your baby.
Shop now at Sears here
Expires: 25th October, 2012
There's a bunch of toys listed and they aren't all just for babies; if you have toddlers, you could also benefit from looking at this sale.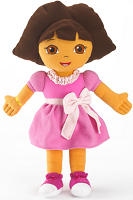 I'm a bit out of touch with what's hot in kids entertainment, but I know that Dora the Explorer is a popular icon. If your child is a huge fan of this cartoon character, then they will love cuddling up to this Dora the Explorer pillow and you'll appreciate it even more when you see the price; it's 20% off and comes out to $19.99.
My advice to you: make your plans now for your holiday gifts in order to avoid those huge headaches when it comes to crunch time. It'll be less stressful for everyone. How about you? Do you have any advice to give others for Christmas shopping?