Dresses are just as versatile as you are and, with some creative thinking can be worn year round. Every girl, from an innocent toddler to a full-fledged adult should have at least one dress in their wardrobe and, if you feel like you're lacking in that category, check out what Old Navy is bringing to the table! All dresses are on sale with prices starting at $15 for girls and $19 for women.
Because you can't dress up in the latest offers on our Old Navy page, deck yourself out with their affordable clothing instead.
Shop the collection at Old Navy here
Expires: 7th November, 2012
Let's go on a mini shopping trip together and discover exactly how adaptable this wardrobe staple is: we're going to start with the obvious, our dress. I'm fond of this blue sequined chiffon dress at $35 so this is going to be the base of my outfit. Classy enough to be worn to wherever your feet can take you in the summer, it will also keep you cool yet feeling hot at the same time.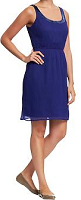 Next step, making this a bit warmer for spring and fall; a classy cardigan should do the trick! A simple white or black soft boyfriend cardigan at $29.94 will keep you classy and warm for whatever you choose to do.
But what about the winter season? Pair the above with some leggings or these black cable-knit tights at $10.94 and you're ready for whatever Mother Nature throws at you! All of this can be applied to the girl's dresses too.
Don't forget that shipping is free with orders of $50 or more. Which style are you thinking of buying?