I'm a self-confessed frugalista and saving money is a great trait of mine; but alas, even I crumble when I see designer fashions on sale. I don't usually splurge, but I do on certain items when there is a good reason. That's why when I saw that you can now save an extra 20% off on already reduced summer items, I thought this was the perfect chance to get some key pieces for my wardrobe and to share with you my wisdom.
If you'd rather something else, then head over to our Luisaviaroma page for other deals.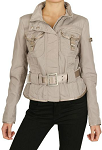 Before you go loading up on a bunch of clothing, make sure you have the budget and wiggle room to afford them. The goal here is to save money, not lose it!
A couple of "power pieces"–items that are pricey but are good for more professional situations and will last you years–are a great idea for any wardrobe. A suit, an evening gown or a nice coat are perfect examples; just make sure to get them in neutral colors so they will always be in fashion. Here is one recommendation: this Peuterey short trench coat in beige. It's high-class with an abundance of style and is currently reduced by 30% to $303.17; use the code above and that drops even lower to $242.56.
Yes, it's still a lot of money, but I'd much rather spend it on one coat that's going to last me, than on a couple that won't. What do you think?
Shipping is free and there are no import fees as well now—a recent and most welcome change.