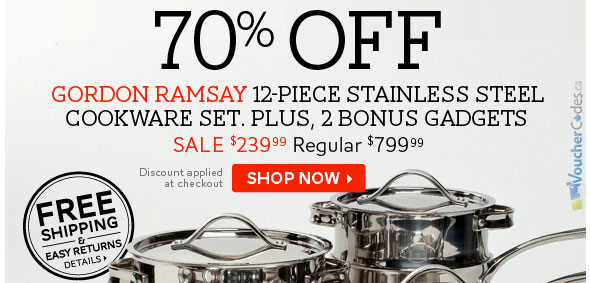 The Flash Sale at The Bay today is for a 70% discount on a Gordon Ramsay 12-piece stainless steel cookware set that comes with 2 bonus gadgets. This means that you could get this stainless steel set for only $239.99 while it is normally priced at a whopping $799.99.
I personally think that cookware sets are among the few items that we should never pay full price for. They go on sale so often and when they are they are so highly discounted, that it's easy to grab one for a fraction of the price. And now is a good time to get a new quality one for cheaper at thebay.com.
Shop the Flash Sale at Thebay.com
expires: 12th September, 2012 (midnight)
This online exclusive sale starts at noon and ends at midnight today, so make sure you don't miss it. You can also enjoy free shipping and easy returns on your order, all the information is available on The Bay website. There are also other cookware sets at 55% off and open stock cookware for 30% off.
Are you watching Kitchen Nightmare or any other show with Gordon Ramsay? I'm not a fan because of the way he talks to people, even if it is for a TV show. What do you think about him? Have you ever bought one of his cook books?