With a few weeks of school already gone, there's no doubt that your child has already ruined a pair or three of jeans and might have even grown out of a few key pieces of clothing. Another possibility is that your toddler, for some reason, is acting like a teenager and demanding a new wardrobe. Never fear because Please Mum is here with 50% off their fall collection.
I also saw two codes floating around on our Please Mum coupon page to save you up to an extra 20% off.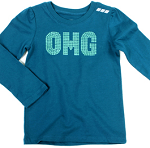 There's a bunch of hoodies and sweat pants to keep your kids warm and cozy in the colder seasons. I know two 3 year old twin girls so I instantly went to the little girls section and discovered this Cropped Dance Hoodie reduced to $14.98; low enough for me to buy one for each twin!
I also thought this OMG Shirt was too adorable for words and that every little girl should have one! At only $9.98 to boot, it's a feasible idea.
Shipping is free on orders of $50; otherwise it's a flat fee of $6.95.