On your New Year's resolution list, did you mark down that you had to do a good deed? Have you accomplished it? If not, take the chance to see what Toms shoes has to offer and find more about their "One for One" program. When you buy a pair of shoes from them, they donate a pair to a child in need.
Our Toms Canada page wants to help you give even more by sharing with you a code to save $5 off your order and get free shipping.
All that glitters is brilliant, so make your feet shine in these black glitter shoes at just $60 after you punch in the rebate.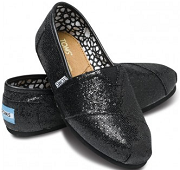 The "One for One" movement reaches out to the under-developed towns and schools to provide children with a free pair of shoes. They recently donated some to a number of schools in Uganda and also educated children about proper foot and oral care. It gives them a chance to actually own a pair and to not have to run around barefoot on the harsh terrain.