Are you preparing to go on a vacation somewhere warm in the upcoming weeks? Update that old luggage with something that is not only practical but beautiful at the same time. In fact, Bentley Bags offers much more than just luggage, they also sell wallets, handbags, backpacks and much more. Right now, you can automatically save an extra 30% off the last ticketed price. We have teamed up with our friends over there to bring you an amazing Vouchercodes.ca exclusive for an extra 10% off your order and it can be stacked with the current sale!
Our Bentley Bags coupon page is always has great deals to warm your heart.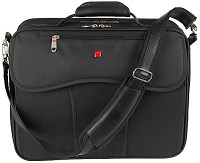 I am always on the look-out for stylish and convenient laptop bags and I think I may have found my match with this 17′ inch laptop briefcase. Starting at $29.99, the price automatically drops to $20 with the instant discount. Tack on our exclusive code of all things awesome and your grand total comes out to $18.99. Not a bad price for a professional look.
Match it with this Foxy lunch tote at $8.18 after all the rebates. Stop wasting plastic bags and avoid bring your lunch in brown paper bags with this insulated bag.
What are you going to splurge on?