A lovely place to shop, French Connection offers original clothing and great style inspiration. For a limited time, save 30% on a Ditton Sweatshirt from French Connection.

Discounted by $24.60 to $61.60, the Ditton sweatshirt features 3/4 sleeves made of sheer material. Made primarily from cotton, the inclusion of viscose means that while it provides a silky feel, customers need to avoid washing this shirt in hot water to ensure that it doesn't shrink.
While it's labeled as a sweatshirt, it's definitely more of an upscale version of this iconic item and should ideally be paired with skinny jeans and high heels for a night out.
It's also available in the following array of great colors: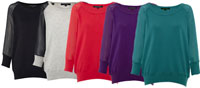 Other items have also been discounted, such as this Bambi stripe vowel neck jumper reduced to $29.99. Speaking of discounts, have you seen our French Connection discounts page?