Highlighting the simplicity and elegance in clothes, Jacob is the epitome of effortlessly chic fashion. Take your style to the next level and save up to 30% off blouses.
Personally, I've had the Jacob promotions page bookmarked for some time now, have you?
Shop at Jacob
Expires: Not provided

For a fun style, take a look at the sleeveless blouse for $29.50. With a built-in cami for just the right type of office-appropriate coverage, the entire look is tied together with a contrasting black sash.
The light blue is also a nice way of adding a bit of color to an outfit without going too over the top and it can be paired with a dark beige or black jean.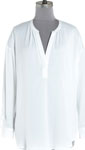 The popularity of the tunic style blouse has not waned a single bit, especially considering it's a style that has been worn by both men and women for centuries. At $41.93, it features a v-neck along with a fitted silhouette. To off-set the material's fullness, it's recommended to pair it with a skinny jean or jean shorts.
Since not all styles are available for order online, be sure to check before setting your heart on the desired item. Also, don't forget to browse through the entire sale section for discounts on a variety of other clothes from skirts, dresses, dress pants and even jeans and mittens.