With Mother's Day falling on May 11th in 2014, it's unreal to think that it's already a few days away. Since time seems to rush forward with most holidays and special occasions, we suggest you start shopping for the perfect present ASAP. Instead of scrambling at the last minute, a great idea is to order a photo book and even better is that until the end of the month, you will be able to save 30% and also get it designed for free!
Simplifying the process of creating a photo book, Blacks.ca offers to design one for you until you are 100% satisfied with the end result and this, absolutely for free. All you need to do is upload the pictures!
Keep in mind that new daddies can also engage in Mother's Day, especially when kids are still too young to get mommy anything on their own. If you're a father, send the woman of your dreams to a girls' spa day, while you design a photo book with your kids. Keeping them entertained while making something for Mother's Day? Score!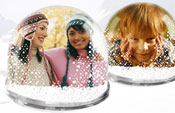 Shopping for more products than just a photo book at Blacks is also easy as they have a wide selection of interesting items. Take for instance the snow globes, featured on the right. Insert any picture inside and voila: instant memento!
Another positive point of shopping at Blacks.ca is that there shouldn't be any duty or handling fees as they're a Canadian company.
Have you started thinking about what to get for Mother's Day yet?