Coffee has a tendency to somehow taste better when it's either free or it costs less. How can you say no to saving money on the beverage that 65% of Canadians drank in 2010? Shop in advance for Black Friday and Cyber Monday and save 30% off site-wide, plus free shipping with orders over $85.
Craving more java? Check out some of the other deals on our Coffees of Hawaii page.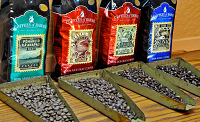 Nothing beats a fresh pot of heavenly roasted coffee. In fact, gift sets are a great way to try something out for less. Just look at this Three Island gift tin. It features three very different types of coffee with a variety of roasts. From an espresso to the delicious Kona coffee, this tin can be yours for $32.75 after the discount. I'm getting thirsty just looking at it!