Each one of Gap's divisions, most notably Banana Republic and Old Navy, offers unique and lively selections for the whole family: from adults, children, toddlers and even infants. For a very limited time, save 30% off your order at all 3 stores.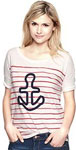 The following cannot be stressed enough: with 3 unique brands, anyone can find an appealing article. Take for instance Gap's embroidered anchor striped T reduced to $20.99 during this sale, that would be a great nautical-themed piece to wear for a windy day on the water this summer (or a day just about anywhere). Also available in a black and red colour scheme, it's made of 100% cotton for better item durability. For accessory and shoe inspirations to go with this t-shirt, check out the following anchors away outfit idea.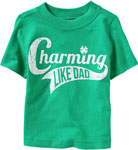 It's even easier to shop for kids at Old Navy with their fabulously low-priced clothes. Since little boys often strive to be just like their dads, wouldn't the "Charming Like Dad" Tee look absolutely adorable for a father-son day at the park? Already reduced to $7, save an additional $2.10 with the discount above and be sure to take loads of cute pictures from the sidelines.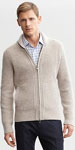 Good quality clothes are essential for any wardrobe and Banana Republic's shawl-collar zip cardigan for men definitely fits the bill. Originally priced at $160 and then discounted to an incredible $69.99, it provides just the right amount of class for an evening out to a restaurant or perhaps to one of those dreaded dinner parties. Made of extra-fine merino wool sure to last a number of years, acquire it for your wardrobe for the rock-bottom price of $49.99 with the coupon code.
Details: Not valid on the following Old Navy merchandise: All Khakis Sale Items. Not valid on the following Banana Republic merchandise: BR Picks, Monogram, Heritage, Men's Performance Collection, men's suit jackets, men's and women's blazers, leather apparel, cashmere, men's Gavin, Dawson & Emerson pants, Carlie & Ashley Flats, and men's Digby & Owen shoes, MadMen.
For even more savings and deals, take a look at our coupons pages for: