Did you by-chance happen to forget to buy that special someone in your life a gift this holiday season? Before heading to the dog house, head over to our MyJewelryBox.com coupon page to pick up your very own Vouchercodes.ca exclusive! Save 25% off your next order and bring a smile to someone's face, even if it's yours.
We are the only ones to have this code, so take advantage of this amazing deal!
Diamonds are a girl's best friend, but so are gemstones, pearls, gold and anything else that glitters and sparkles.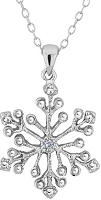 Show your winter spirit by gracing your neck with this necklace grace and add the perfect bit of glamor to your look. Wearing a real snowflake isn't really practical, but this diamond pendant is! With free gift packaging and shipping from within Canada, this beauty demands to have space in your stock of accessories.
The Snowflake Diamond pendant is $24.99 before our exclusive code. With it, it drops down to $18.24. Make sure to check out the shipping information before placing an order.
What are you going to buy?