As of November 29th 2012, brave the cold weather and the less than pleasant temperatures over the weekend by seeking solace at your local Gap store. Besides having the opportunity to try on as many of the fabulous Gap clothes as your heart desires, you also can save 25% off your entire order in-store. Grab your best friend for some good ol' shopping fun!
Find a Gap store near you here
Expires: 2nd December, 2012
A printable coupon isn't needed for this amazing offer. All you need to do is show up and shop until your heart's content. The discount will be applied at the cash.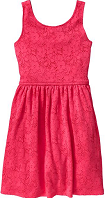 If you have a little girl at home, I suggest dressing her in this pretty Floral Lace Dress, featured on the right for $32.95. Besides being a beautiful piece for the little one to wear during your holiday parties, it also doubles as a nice summer dress for when the warmer temperature come back.
Concerned about your princess getting cold in her dress? Add on this ruffle cardigan at $42.95 to keep her stylish and warm.
Complete this holiday outfit with these silver glitter flats at $32.95 and make her the talk of the party with this cute Houndstooth terrier purse at $25.99.
Keep in mind that Gap also has clothes for adults: both women and men. Will you be stopping by this weekend to save even more on outfits for this holiday season?