For some of us it might be time to upgrade our luggage, especially if you're visiting family this holiday season. Let's face it; that pink leopard print suitcase might have seem pretty when you bought it, but it might get more stares than what you're ready for! Bentley is celebrating their 25 year anniversary and is offering a huge 25% off everything site-wide, including items on sale. We've teamed up with them to help celebrate and we have an exclusive code to go along with this sale: a bonus 10% off.
The sale runs online until October 4th only, but this code is valid until the end of December.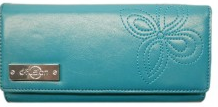 Don't forget that we have a Bentley Bags coupon page that we keep updated with the latest offers.
For years now I've always been drawn to their selection of wallets and always have a working one in my arsenal. My last purchase was this D-Fusion Flower Clutch that is the perfect size for most woman. It has multiple slots for cards, plus ample of space for coupons or spare change. It's currently marked down to $14.99, but with the instant 25% off, that drops down to $11.24. But wait, it gets better: tack on our exclusive code for a bonus 10% and that sinks lower to $10.12. You can't go wrong with prices like that!
Shipping is free with orders of $50 or more. I can see a few handbags that I would love to get my hands on, what about you?