What better way to celebrate the season of love than with decadent and delicious chocolate? Spoil your loved one with something a little different this year: chocolate covered coffee beans. If you're a coffee lover, you will simply drool over these babies. Pick up a selection of Valentine's inspired ideas for 20% off and even get free shipping.
Our Coffees of Hawaii coupon page is always looking for a date!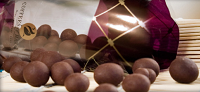 There's a few items that you can get with this special. Each of them is 20% off and each comes with free shipping:
Valentine's Custom Roast
Cappuccino White Chocolate Covered Beans
Dark Chocolate Covered Beans
Milk Chocolate Covered Beans
Valentine's Day Gift Tin
The cappuccino white chocolate beans have me craving them right now! A 6oz bag is normally $6.25 but can be yours for $5. I'll gladly take two at that price!
I haven't tried the Valentine's roast but if it's anything like their Moloka'i blend, you'll be in for a joyous morning! It is smooth, flavorful and good to the last drop.
How are you going to celebrate 2013?