Save time and money by creating your own works of art with the help of our VoucherCodes.ca Exclusive. Instead of risking someone else having the same work of art up on their walls as you, use your very own beautiful images to create stunning canvases of any size. With Mother's Day a couple of weeks away, create the perfect gift and save 15% off all canvases .
Are you perhaps looking to save on custom canvas prints as well? You're in luck, since we have an exclusive to save 10% on those as well!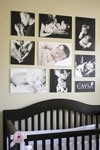 Taking into consideration that Mother's Day honors both mothers all over the world and motherhood in general, there is nothing stopping the men out there from getting their significant others a set of lovely canvas prints of the children to then be hung up in the nursery or anywhere else for that matter.
Of course, the same concept can be applied to any kind of occasion from memories from a birthday party to a wedding, honeymoon, pregnancy etc. With regards to art and more specifically photography, the possibilities have no bounds whatsoever — except for your own imagination that is!
Any picture or image can be turned into a work of art with just a couple of clicks. The best part about Greenleaf Canvas' process is that its complete versatility allows you to customize works according to how you want them to come out. From the panel layout (whether single, double or triple), the canvas size, the edge style (black, white or mirror) and effects:

Let us know on Facebook if your Mother's Day plans will include a lovely canvas from Greenleaf Canvas.