Air Canada are now celebrating their 75th anniversary and they want all Canadians to enjoy this event with them. So they are offering a 15% discount on 75 destinations in North America. This rebate can be claimed on Tango fares for Canadian flights and on Tango Plus fares for U.S. flights and for flights between September 4th and December 14th 2012.
It applies to all the Canadian destinations and the following American ones: San Fancisco (SFO), Los Angeles (LAX), Denver (DEN), Phoenix (PHX), San Diego (SAN), Seattle (SEA), Miami (MIA), Oahu/Honolulu (HNL), Portland Oregon (PDX), Houston (IAH), Kansas (MCI), Milwaukee (MKE), Philadelphia (PHL), Pittsburg (PIT), Cleveland (CLE).
Perhaps you didn't already know this interesting fact about Air Canada: the airline was originally called Trans-Canada Airlines and was founded by legislation of the Canadian Federal government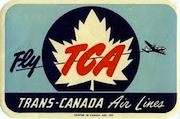 in 1936. At first, they only had 3 different planes, but today they have over 204 planes. Also, the name changed in 1965 and it was privatized in 1988. Check out the old school logo. Pretty cool isn't it?
Unfortunately since 2000, Air Canada has been facing major financial difficulties that led them to file for bankruptcy protection in 2003. Let's hope they'll be able to get over it.