Even with the ever-digitizing of our world, a good printer is indispensable for home and work environments. On top of offering weekly sales, Epson has also released an advantageous coupon to save 15% off all orders for a limited time. Keep in mind that:
"This offer does not apply to shipping costs or to Epson Clearance Centre products, Home Entertainment projectors (excluding MovieMate), or to Professional Imaging products (including hardware, ink, paper and media)."
If you happen to miss it since it's only a 3-day sale, take a moment to visit our Epson Canada page for upcoming deals.
Upon considering the purchase of a new printer, some of the most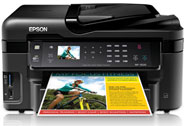 important factors to analyze are the ppm (pages per minute), connectivity, color and multi-functionality. Taking all of these factors into consideration, Epson's WorkForce WF-3520 with its 15 ppm printing in black, Wi-Fi connectivity, colored printing, and all-in-one components (print/copy/scan/fax), results in a solid choice for home use. Previously discounted to $129.99, it falls to the great price of $110.49 with this coupon.

For those of you business owners who are in need of a new printer, tax season is one of the most compelling reasons to invest in one and the Epson WorkForce Pro WP-4530 All-in-One Printer, featured on the left, would make for a great purchase at $254.99, discounted by $45. Even better is the fact that with 329 reviews at the time of writing this post, it has gathered 4.3 stars out of 5. With relatively similar specifications to the printer mentioned above, the main differences lie within the paper tray capacity (roughly 30% larger) as well as ink yield (about 145% more).
Let us know what you think of these 2 printer choices? Would you have selected different ones?