I don't know if you've had this issue before, but this was a common one in my house; my family and I used to go to a relative's house for Thanksgiving dinner and they would refuse and get downright angry if we tried to help by bringing over a dish or a platter. We still wanted to be polite so we started to buy bouquets of flowers instead. With this in mind I took a peek at our 1-800-flowers.com coupon page to see if I could be frugal this year when it came to my flowers, and I discovered an exclusive code that I knew nothing about! Right now, you can save 15% on your next order through the site.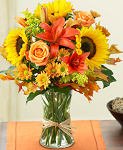 Even if you forget your significant other's birthday, 1-800-Flowers comes to your rescue; most bouquets are delivered the same day so they'll never know that you forgot.
I went browsing through some of the choices for Thanksgiving and stumbled upon this lovely Field of Europe arrangement–also featured at the side. It comes in three different sizes, all ranging in price. I liked the medium the most at $49.99 and, when you use our exclusive, that drops down to $42.50.
Make sure to verify which ones are available in your area and if extra shipping costs might ensue.
Who do you want to send a smile too?