Girls! Don't deny it and embrace it instead: we all love trying on wedding dresses and twirling around in them. Unleash your inner girl (or, embrace your more manly shopaholic side, if you're a guy) and go crazy with our Vouchercodes exclusive code. Spend $100 or more and save $11 off your order with the new code that has taken up residence on our Lightinthebox page.
Besides boasting already low prices, there's always a massive number of sales going on that allow you to save even more. If you're at a loss as to where to get great deals for everyone on your Christmas list, there's no better place than to spend a few minutes (or more!) browsing.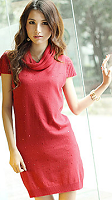 Can you image pairing this Red Short sleeve knit sweater with a pair of leggings for a warm and stylish outfit? To satisfy your shopaholic, it can be yours for only $30.39. I suggest pairing it with these Knit leggings at $7.19 for a frugal but beautiful outfit.
Shipping varies per order, so make sure to check before placing yours. What are you going to buy?