Starting now and until the end of August, you could get $100 off the following Dyson vacuums: DC29 Multi-Floor, DC23 Motorhead and DC21 Stowaway. No coupon code is needed to enjoy this offer, you can simply use the following link to be redirected to the right page at dysoncanada.ca where the discount is applied automatically.
Shop the $100 off Dyson offer
Expires: 30th August, 2012
The promotion on all Dyson fans is still going on in case you're interested, meaning that you could also take $100 off all fans. This offer expires at the end of August too. Don't forget that Dyson also offers free shipping on all orders, so you don't have to worry about extra fees–which would ordinarily be hefy, considering the size of the packages.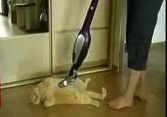 Did you know that Dyson also sell an animal kit to vacuum your cat or dog and stop them from leaving hair all over the house, it's also meant for furniture. The only problem is that most animals are scared to death of vacuums. You should see my cat hiding when I'm starting the vacuum. But looking at this photo, it looks like there are actually some cats that love vacuums ;)
Use this link to see more Dyson promotions available in Canada.