When it comes to jewelry, the assumption is that it's mighty expensive and only to be given on special occasions like birthdays, anniversaries… the usual boring spiel. Guys, do you have any idea how special it is for a girl to get jewelry just randomly with the only reason behind it being how terrific she is? Make her day by getting stunning jewelry at a low price — just don't tell her exactly how low it was! Until the end of the month, save 10% on everything, even jewelry on clearance.
For the single ladies reading this post, new jewellery is sure to garner daily compliments, so don't hesitate and shop now to match any outfit.

Reimnisent of a fancy key that might be used to open a royal palace, the key pendant is definitely a great conversation starter. Encrusted in .14ct diamonds, it includes the chain and can be referenced to as the key to your heart. Originally priced at $169.99, it can be yours for a magnificent $54.
For a smaller-scale key, take a look at the 3-set jewelry pieces, which include a pair of pearl earrings, a scalloped necklace and a key pendant with a pearl for only $9 with the coupon code above.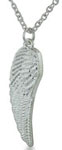 Considering that antique jewelry can be particularly difficult to find, the vintage inspired wing necklace at $18 will add elegance to any outfit without having to leave the house to shop. In fact, we suggest bookmarking our SuperJeweler coupons page for even more discounts.
We'd love to hear from you! Tweet us @CouponsCanada which SuperJeweler pieces are your favorite.