February 3rd is the day on which the Super Bowl falls in 2013 and though it might not be as big here in Canada as it is in the United States, it's still a good reason to throw a party with all of your friends and family! Pass that pig-skin and grab some of the must-have supplies at Well.ca. I can't give you a touchdown but I can give you 10% off select items.
Did you know that we also have an VoucherCodes.ca exclusive on our Well.ca coupon page? Save $10 off when you spend $40 or more as a new customer!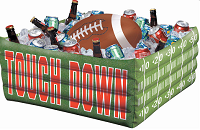 The code might be ongoing, but this buzz-worthy sale is only on until January 27th, 2012.
Half-time shows will never be the same after buying this Football inflatable cooler. Eliminate those unnecessary trips to the fridge and plop it down right by your seat to avoid missing any of the action. Grab it for $21.58, beer not included.
Set out your favorite snacks in this festive Football shaped bowl made durable enough to withstand whatever you put in it and any accidental flights it might take if you're in a rage against a team. Might as well get two since they are as low as $5.11 each!
Who are you rooting for?