Are you ready for the tax season? How about tackling that pesky New Year's resolution to keep better track of your finances? For businesses and personal use, Turbotax Canada has you covered and we even sweetened the pot with a special Vouchercodes Exclusive to help save 10% off your purchase. Save money and keep track of your money all in one fell swoop.
Still hankering for some more savings? Take a look at the TurboTax Canada coupon page for the hottest shindig in town.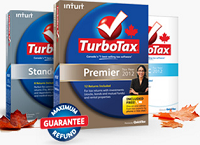 Three products are available with this exclusive link: Cash Manager 2013, Home & Business 2013 and Turbotax Suite. They are all optimized for the upcoming year to help you focus on budgeting and saving money as close to perfect as possible.
Renown in Canada for helping individuals get the biggest refund possible from taxes, Turbotax is one of the most popular items is the tax software. It has an easy step-by-step guide that simplifies the process of doing your taxes by helping you discover hidden deductions. A neat feature is that it shows your rebate right on the screen with every completed question.
Have you tried this software yet?