From body lotions, hair products, skin care, makeup and even fragrances, finding great items for yourself and loved ones is made easy with The Body Shop. Even better is that for a limited time, you can save $10 on orders of $30 or more with our VoucherCodes.ca Exclusive for The Body Shop Canada.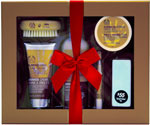 Looking for a handy Mother's Day gift isn't hard, especially since The Body Shop has already prepared one for you and has even tied it off with a lovely red bow. Featured on the right is the Deluxe Almond Hand Care gift set, which will not only provide the most important woman in your life with amazing skincare products, but will also help you to stay right on budget. Valued at $72.50 and reduced to $41.25, you can get it for an additional $10 off at $31.25 — wow, that's close to 60% off!
Alternatively, for those who prefer the sweet topical smells of coconuts, mangos and oranges, then the Deluxe Tropical gift set is the prime choice. Valued at $113, you can get it for only $65!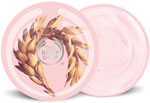 With shea and cocoa butters, the vitamin E body butter, would also make for a great gift as it moisturizes and provides protection from environmental aggressors all at the same time.
In case you're wondering about The Body Shop's testing policies, you can rest easy as they are an eco-friendly company that does not engage in animal testing.
Let us know on Facebook which of The Body Shop's goodies you will be pampering your mother with?