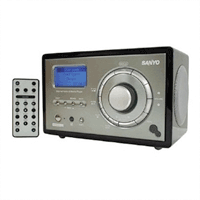 I don't normally talk about deals on specific items (that is apart from occasionally on daily deals Canada page). But this offer was sent exclusively to us and it's a good one. The offer is for 45% off a Sanyo Internet WiFi Radio from Dell Canada.
Sanyo Internet WiFi Radio Review
So about the product and why we like it so much. The radio is also a clock and needs wifi internet to work (but this also makes it awesome). The normal retail price for this radio is $179.99 at Dell, but with the exclusive coupon we have it now only costs $99 (works until May 1st 2011).
Buy Sanyo Internet WiFi Radio with this Coupon
Details: Save 45% on on this product (so only $99), only at Dell Canada with this coupon.
Code: BJ24JW?76KTGCX
Expiry date: May 1st 2011
Buy: Use the window that opened below to see the product and get your discount

The radio plays thousands (which in my girlfriends case would be too many) of radio stations (all free) and even podcasts from all around the world in many different languages. You don't have to subscribe to anything or spend countless hours setting things up. There is a search function on the radio that lets listeners search by country or music genre. If you have itunes or a music library on a shared network (wireless) then you can also access them, for example I could use my time capsule to store my music and play them through the radio too.
Obviously it comes with a remote control (don't loose it) and a few presets which are programmable. The sound is good. People gave it 4/5 on a recent review of the Sanyo Internet radio I saw and trust, customers can also check out the pricing and reviews on Amazon.ca. The list goes on, all in all we like the stereo/radio and think it's a great bargain.