When it comes to special occasions and holidays, even late is better than never. Though you may not necessarily get it on time for Father's Day, it's perfectly acceptable for a great and thoughtful present to arrive a couple of days late. So, kick your feet up and shop at Roots Canada for a chance to snag up to 30% off select items for dad.
Don't forget to keep on the look-out for more deals at our Roots Canada promotions page.
Get inspired with Roots' Father's Day deals
Expires: 18th June, 2013

It would seem that as dads gain more years, the thoughts suddenly occurs to them that maybe it is best to avoid that yearly sunburn. Luckily, the Karl stretch fitted baseball cap is sure to fit any kind of dad from the sporty who loves golfing to the most casual simply looking to BBQ all summer.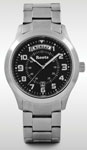 For a more timeless kind of gift, the continental watch is sure to impress, especially since you can get it for only $87.50 instead of its usual $125. With the day clearly displayed on top, it's water resistant up to 50m and even comes with a 20-year warranty!
As for the more Stylish kind of dad, get him two Big Beaver polos for just $50 and save $10 at the same time!

Let us know on Facebook your plans for Father's Day.