Labor Day is perfect for forgetting about work, grabbing a well deserved drink and taking some time to shop the numerous online discounts! Just in time, you can save an extra 15% off sale items at Romwe, but only with the code below. Hurry this promotion ends today!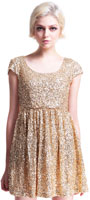 Wow, doesn't the mysterious universe skirt on the left look absolutely spectacular? It's sure to be a show-stopper no matter where you go as it features a lovely snapshot of the universe. Speaking of show stoppers, steal the spotlight this New Year's with the paillettes apricot shift dress made from thousands of little sparkling paillettes that is sure to captivate all.
Considering how lace has totally been in this summer, be sure to check out these lace shorts, which can be worn with just about anything and is a quick way to glam up any outfit!
What has captivated your attention at Romwe?