Are you the kind to wear your heart on your sleeve? Well put that heart back where it belongs and instead wear something that best represents your fashion and interests with our VoucherCodes.ca Exclusive to save 15% off site-wide when the order comes up to $60 or more.
In case you haven't heard of Romwe before, be sure to read about them here.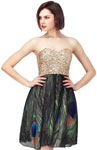 In the world of symbols, peacocks are associated with the all-seeing eye or the eye that sees all actions and all people. As such, be the life of the party in the golden sequin peacock dress, which can be yours for just $56.94 and don't let anyone pull the wool over your eyes!
For those immersed in astronomy, show your interest for all to see with the mysterious night bodycon dress at just $41.99.

Romwe also has a huge selection of unique leggings to choose from, such as the "Batmen" leggings featured on the right. With close to 500 different styles however, we dare you not to find one you love and that fits your personality! From starry night to cartoon prints and even geometric patterns, they definitely have styles for any occasion!
We'd love to hear from you! Let us know on Facebook your favorite Romwe styles!