There's no need to break the bank this year for Valentine's Day! Who says you need to dazzle and impress with expensive items? Stow away that wallet and get back to basics with Wal-Mart Canada for all your romantically inclined ideas. From jewellery to DVDs and spa kits, indulge whatever your loved ones pleasure is for less. You should also bookmark the Walmart Canada coupon page for further money saving ideas!
Shop at Wal-Mart Canada Here
Expires: Not Provided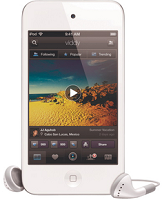 I know that most of the population has an iPhone, but if you're among the few like me who have a different kind of smartphone (the team here at VC all have an iPhone, except for me, who they ridicule for having a blackberry), an iPod touch is a great system to have. With basically all the same functions as its smartphone sibling, you can still jam out to your favorite tunes and play your favorite apps as much as you would like. Pick up this 4th generation iPod touch for your sweetheart for only $198.
In the mood to just settle in and cuddle with a good movie? Grab the movie Valentine's Day for $9.83 and watch the romantic stories of a couple of Los Angeles couples.
Why aren't you celebrating for less?