When it comes to baby shoes, it's important to go for quality. Sure the argument can be made that they'll outgrow them fast enough but fact of the matter is that cute shoes make for an even more adorable looking baby and subsequently, pictures to show off when they bring a date over twenty years later! Best of all, use our incredible VoucherCodes.ca Exclusive to save 20% off all kids shoes at Robeez!
While a baby's first steps are as important as their first words, making sure they look just as fashionable as they do looking adorable is just as essential — and really, what baby doesn't look super cute?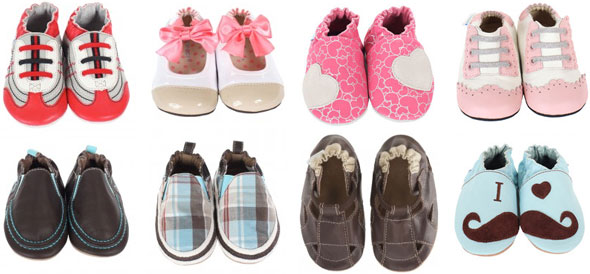 The "I Luv Mustaches" soft soled shoes would look absolutely adorable for the upcoming month of Movember and best of all they're on sale for just $16.19 and with Exclusive, they can be further reduced to $12.95! Same goes for the super cute colorful ballet mini shoez for girls (second from the left in the top row), which also conveniently feature a non-skid sole to prevent slipping.
The question here isn't what will you choose but rather how many pairs will you be saving on today?