A little while ago, my roommate made this delicious Beer Can Chicken that was super moist and tender. He also has an arsenal of kitchen items, including a roasting pan, but you can never have enough according to him. So my roommate and Vouchercodes fan Shaun passed along this deal for Ikea where you can pick up a Koncis Roasting Pan with grill rack for 60% off at $9.99 at Ikea.
Visit Ikea and find out more
Expires: 30th September, 2012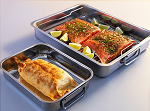 Before you turn your nose up at purchasing yet another kitchen item, take a look at this link for 16 easy recipes with roasting pans. It really is a one-pan cooking tool and can help cut your prep time in half.
It's available in stores and online as well, but there's a maximum of two per customer.