When shopping online, is the first thing you do is skip over to the sale section? So do I and this is exactly why I love sales on sales, which are essentially extra discounts on already reduced items. In fact, today (March 27th) is –sadly– nearly the end of a sale to get an extra 30% off any 4 items items at Ricki's, so hurry before it's too late!
Visit Ricki's here
Expires: Not Provided

I know it may seem a little out of season to shop for spring and summer clothes right now when you would probably much rather buy bulky sweaters, but I'm a sucker for a look! The slim fit capri immediately caught my attention, simply because of their style, which could pair with just about anything during sunny days.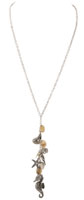 But wait, Ricki's sale gets even better with 50% off sale jewelry. Take for instance the starfish and seahorse necklace on the right: though initially priced at $22.50, it can be yours for just $11.25! No biggie if you don't like it either or you already have one similar to it, because there's tons more to choose from.
Let us know in the comments section which items you add to your shopping bag.