Every girl needs a pair of heels in their arsenal of accessories, and you can never have enough pairs of shoes–in my opinion. Right now, to tempt you and I even more to add to our shoe collection, Lands' End is offering you a chance to get 40% off select footwear and free shipping to boot. This is a dangerous sale, especially considering I saw a bunch of nice flats!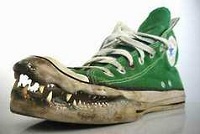 If you really do have crocodile shoes like the ones here, you might want to think about taking advantage of this offer. Also make sure to check out the Lands' End coupon page for other offers .
I've only heard good things about boots from this brand and after a quick browse, I found my must-have for this winter season. The women's pull-on boot is cute yet effective against sludge and snow. It's already reduced to $59.99 and, after adding the 40% off discount, goes down to $35.99.
If you'd rather a pair of pumps for the holiday season, check out these heels in Mulberry wine at only $59.40 after the discount.
Make sure to input the PIN number when you enter your code, or else it won't work. Don't forget that shipping is free too.