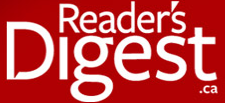 Here's a great link to get an amazing 51% discount off a year subscription to Reader's Digest Canada. The deal is that you need to give the 12 issue subscription (to the most read magazine in Canada) as a gift to someone else.
Click Here to go to Reader's Digest Canada Deal Page
All you have to do is fill in the form on the Reader's Digest Canada Deal Page in order to take advantage of the one year 51% Discount. The subscription will then cost you $24.97 instead of the usual yearly cover price of $51.
The gift will continue to be sent to the recipient until you decide to cancel this gift subscription. A gift renewal privilege will be sent to you each year to know if you want to renew the subscription for another 12 issues, at the same low rate. You will be able to receive a refund if ever you decide to cancel the gift subscription for the issues not yet received.
Included in the price, the people at Reader's Digest Canada will send a personalized greeting card explaining the nature of the gift. Also, as a gift to you Reader's Digest will send you a free agenda.
ReadersDigestStore Coupon Codes
Offer: Cyber Monday huge savings at the Readersdigeststore.
Expires: 11.30.09
Code: LST13
Offer: Thanksgiving 4 Day Sale at Shop Taste of Home! Save 15% + ship for only 99 cents on orders of $40 or more.
Expires: 11.29.09
Code: LST12
Offer: Save 25% on your purchase of $45 or more.
Valid and Expires: 11.30.09 (one day only)
Code: LST13
Offer: Save 15% off all Serving tableware at Shop Taste of Home! Perfect for Holiday entertaining.
Expires: 01.26.2010
Code: LST10
Offer: Save $10 on your next purchase of $45 or more at Shop Taste of Home.
Expires: 01.26.2010
Code: LST11