It's no secret that oftentimes sales tend to fall flat on their promises of great deals. However, Puma's Semi-Annual Sale is definitely the exception: with up to 50% off and free shipping available, there's definitely something for everyone!
Never miss a sale again by bookmarking our Puma Canada page.
Browse Puma's Semi-Annual Sale
Expires: 14th July, 2013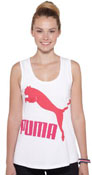 Take for instance the swing tank top displayed on the right. Reduced to $19.60, it's the perfect gym top as it's flowy and great at what you're trying to work off. For a more fitted kind of tank, try the cat tank made of 100% cotton and priced the same as the swing tank top.
As for men, the No. 1 Logo Vintage t-shirt is definitely worth a buy especially at its low price of $19.25 instead of the regular $27.50! Better yet, get two for just $37.50!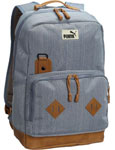 With back to school right around the corner, use Puma's sale to prep your kids while you get yourself a couple of pieces as well! In fact, the engineer backpack is unlike any backpack you might have used as a child: it has enough room for a laptop, features a special sleeve for a tablet and has a number of pockets for all of those extra little things like erasers, pens, candy… okay, maybe not the last one!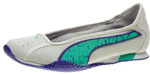 A great backpack means that comfy shoes are a must as well. Though there's footwear for both sexes, the Asha Ballerina would look absolutely perfect with just about any of your little girl's outfits. And best of all? These sneakers are made with a breathable material that provide all around comfort for any activity: whether playing hide and go seek outside or basketball at lunchtime.
Will you be shopping Puma Canada's Semi-Annual Sale?