Everyone deserves a vacation and what better time to take one than Spring Break? Priceline definitely had its customers in mind when they released their wonderful coupon discounting Express Deals by 5%.
Where would you like to travel to? Tweet us @CouponsCanada to let us know.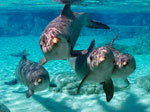 Since March is one of the best months to visit Florida because of the hot weather, take advantage of Priceline's Express deals to Florida and quickly snag a great vacation. Though similar hotels are usually $211 in the area, a stay at a 4 star hotel at Sea World – Intl. Drive comes out to $76 per night. Situated just one mile away from SeaWorld, it features an indoor/outdoor pool, a restaurant, a business center and a fitness center – can't go wrong for that price!
For those who would prefer to stay within the realm of Canada, Vacay's 2013: 20 Best Places to Travel in Canada traverses such great places such as Drumheller, AB and even Toronto, ON to provide the ultimate traveling inspiration. For instance, a hotel in Downtown Toronto South allowing pets and including a pool would come out to $96 per night, when it's normally $175 within the area.
In case the city you're looking to visit isn't available as an express deal, be sure to check our daily updated Priceline page for future markdowns.