A few weeks ago, when I was updating the Chapters Indigo coupon listing page we have on the site, I noticed that they were running a deal on Kobo eReaders. I succumbed to temptation and bought one thanks to this deal–and also got a free case in the process–and have never looked back (check out the cool photo of me at the bottom of this post). If you're still on the fence about buying one of these awesome gadgets, then hear me out as I discuss my adventure as we discover the new Kobo Glo and mini eReader.
First things first and that's to save money:

The main qualm my friends had when they heard that I bought this gadget is that they think it takes away from the actual feeling of reading a book and that it feels more like you're reading from a computer screen than a book.
This assumption couldn't be further from the truth.
The screen is designed to be anti-glare and you can easily read it under direct sunlight–much like a paper book. The technology is called E-Ink and, with the exception that you are reading on a tablet, it mimics the printing of a paperback perfectly—it is ink after all. As a bonus, it also helps save space in your home because you can load up your eReader with tons of novels instead of loading up your bookshelves with paperbacks.
Right now at Chapters, you can pre-order the next generation of this gadget. The Kobo Glo eReader retails at $129.99 and adds a unique touch to it, an adjustable backlight which is going to be beyond useful.
The second option is the new mini Kobo eReader which retails at $79.99. It has the same functionality as the full sized one, except it's smaller in size.
Word of advice: Don't worry too much about which color Kobo you get if you're planning on buying a case. The color is only visible on the back and, if you buy a case, that back colour won't be visible anyway. I was intent on getting the lilac one originally but, once this was pointed out to me, I settled for a pink case instead.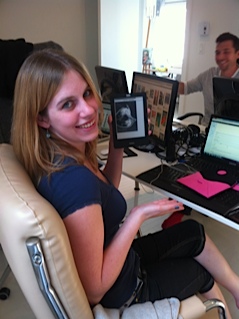 ~ Me with my new kobo eReader