There are those who said this day would never come. What have they to say now? Halo 4 has finally touched ground and your chance to pre-order it from Best Buy is here. So make a galactic pit stop at our Best Buy page and find out how you can get free customizable gear and bonus points. And yes, those aliens have insurance.
Pre-Order Halo 4 from Best Buy
Expires: Not provided
When you pre-order from Best Buy, you get to suit up in Halo infinity multiplayer competitive and cooperative matches with a unique armor skin for the Spartan-IV Dead Eye armor and helmet. The colors of the armor skin and helmet can be customized to fit your personality. So if you want to have a pink outfit, then go crazy!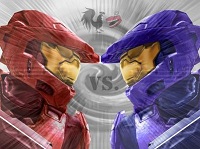 Also, if you are a Reward Zone member, you get a bonus 800 points that is a $10 value. If you're not yet a member, join up for free and get bonus promotions and special deals that you get advanced notice on. I have a card myself and that's how I found out about this awesome pre-order deal.
Take note Quebec residents: they are currently providing this product in English, which is not in compliant with the Quebec language legislation. Therefore, it is not available for shipping within the province of Quebec, but you can still purchase this product as long as it is shipped to a province outside of Quebec. It's bound to change soon, since Quebec has a huge market for Halo players.