We have an exclusive coupon code for you to get 20% off storewide at posterjack.ca. This great offer is valid only for this weekend, so you might want to hurry to enjoy it. This company specializes in photo enlargement products so that you can turn your photos into artwork. You can have your photos framed, printed on canvas, printed as stickers or you can even do collage design. We are going to try and get one and when we do we will put up a picture for everyone to see their work.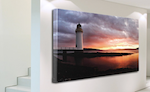 So here are a few example of good discounts that this coupon code will get you:
– 16×24″ Gallery Wrap Canvas for only $80 (regular $100)
– 24×36″ Peel n' Stick Poster for only $32 (regular $32)
– 24×32″ Framed Print for only $80 (regular $100)
You will need to enter the voucher code before checking out.