There's no doubt that you either knew someone that owned a Furby if you were just under my generation or you had one yourself. It was the rage of the decade and kids everywhere just had to have one. That hype is apparently renewed and the popular toy is back for Round 2! Treat yourself or your kids and pick one up at Wal-Mart for less plus get free shipping at the same time.
Shop the selection at Wal-Mart here
Expires: 9th November, 2012
Despite being called a threat to National Security, this furry creature has a chip in it to pick up most of what you say and how you react to it. If you treat it with love and respect, it'll be kind; if your harsh and have a habit of throwing it around…well, it won't be so nice!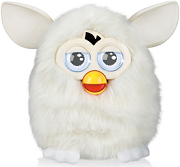 It's currently on sale for $52.77 and is one of the hottest toys this season. It also comes with free shipping which is a huge perk.
Once your Furby starts to stop talking in Furbish, maybe teach it to say a bunch of money saving tips?