Here's a conundrum for you: you want to pick up something from E.L.F Cosmetics but you're at a loss as to what to choose from among the vast selection of items and tools that are laid before you. Well, we can't help you choose what to buy but we can let you know that yet again E.L.F are making it easier to choose between 2 items, simply buy both as customers can save 50% off anything in the best-seller category.
Looking to save even more? Check out the Endless Eyes Pro Eye shadow Palette that is a steal at $10. Valued at $100, it comes with 100 colors in all kinds of shades under the rainbow.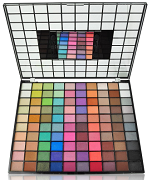 With the single item, you'll be able to create casual, work appropriate styles and dark, smoky and sultry looks for night. For only $5 with the discount code, you can't go wrong! Make sure to check out the 11-piece brush kit at $15 after the rebate if you want to pair your new toy with something.
Shipping is a bit costly for Canada, coming in at a flat rate of $14.95. Now might be the time to call in that favor and get your friends to make a joint order with you.